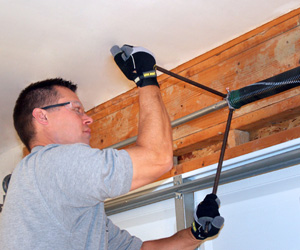 Are your garage door cables broken? Are you looking for reliable and professional garage door cable replacement service in Richmond Hill? If the answer is YES, then you have come to the right place.Our garage door specialists provide superior quality garage door cable repair and replace service. We are known for providing unparalleled customer service and excellent professional services. Cables are one of the most essential parts of a garage door. They hold the weight of the door as it moves upward and downward. Replacing door cable is a complex job that must be left to the professionals.
Doing it on your own, especially when you don't have much technical knowledge and required tools, can cause injury. So, make sure you call in our professionals for cable repair or replacement jobs in Richmond Hill. We have the right tools and equipments to perform the replacement job efficiently and safely.
What Are Common Garage Door Cable Problems?
A garage door has extension springs that are meant to provide support to the door. When these springs break, there is so much of pressure on the door. This increased force can lead to some serious injury. This strong force can even damage your vehicle. That's why, cables are important for the safety of your vehicles. These safety cables provide reliable protection when the springs break suddenly.
Why Is It Important to Seek Professional Replacement?
Our technicians are trained to handle garage door cable replacement jobs. They are trained to complete the task in a safe manner without causing any harm to your belongings. A malfunctioning door can be extremely dangerous. So, it is vital to get it fixed before it gets too late. Our adroit technicians will replace your garage door cable efficiently and effectively using the proper safety procedures.
Why Us?
Licensed, Insured & Bonded
24 Hour Emergency Services
Experienced & Talented Technicians
Free Estimates
Fair & Honest Pricing
High Quality Garage Door Parts
Excellent Customer Service
Customized Solutions
We are committed to offering the industry's most innovative and high quality solutions. We have a large database of satisfied customers. We will always be there to help you, no matter what time or day. We carry out a myriad of services including maintenance, inspection and service of garage doors and cables. If you have any doubt regarding the working of your cables, call our skilled technicians. We will answer all your questions.