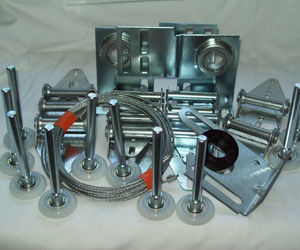 There are several parts and elements that combine to make your garage door functional. Thus, it is vital to ensure that all the garage door parts are in proper working condition. We are your one stop shop for a variety of quality garage door parts. We stock high quality and branded door parts that will keep your door functional reliably for many years. Our garage door specialists not only provide genuine spare parts, but also install or replace them.We can also walk you through the various garage door parts and accessories that can improve the overall performance and looks of your door.
Garage door along with its parts work tirelessly day and night. Over the time, the parts tend to damage or wear or tear and it becomes vital to get them replaced before it gets too late.
Some of the garage door parts we offer include:
New Cables
Rollers
Hinges
Weather Stripping
Opener
Springs
Struts
Photo Eyes
Bottom Fixtures
Trolley's
Gears
Boards
Tracks
Section
Seals
Bumpers
Couplings
Springs
Locks
Slats
Keypads
Remotes
Drums
Bearing Plates
Shafts
And More…
Why Genuine & High Quality Parts Necessary For Your Garage Door?
There's no substitute for quality. Quality garage door parts keep your door running for years to come. We strongly recommend our residential and commercial clients to buy only genuine and high quality garage door parts. It is a one time investment that provides significant benefits for years. If you are looking for a particular door part, just contact our professionals. We will not only get you that part, but will also install that for you.
Our garage door technicians hold years of experience in garage door repair and installation job. We believe that proper installation of the parts plays a vital role in the functioning of the door. You can rely on your door only when all its parts are working in sync. Even a small fault can make your home and valuables vulnerable to theft. So, make sure you visually inspect all the parts of the door. If you find any damaged part, contact our professionals immediately for replacement service.